We have successfully reached double digits! Our ragtag little family has hit yet another milestone and Popeye is still in one piece.
I believe this calls for a round of parental high fives.
We have not been shy about dragging the little man all over our fair city and thankfully, he has been a pretty willing participant. Since he mostly sleeps through the festivities, we decided to document many of the excursions. This way, when he's older and asks why we never do anything, we can show him these photos and tell him that it's all been done. That and he should probably clean his room and be nicer to his mom.
Here are 10 outings to celebrate 10 weeks with Popeye: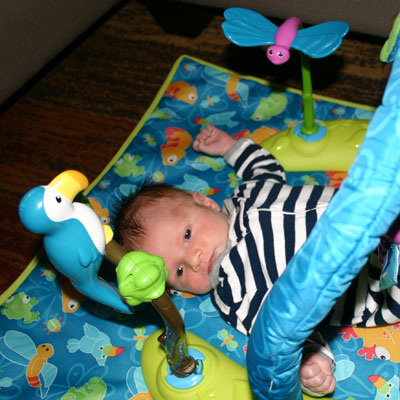 Before going out into the concrete jungle, we decided to take a practice run and start him out in the plastic jungle. He was up to the challenge and even named the bird Coo. He also named the butterfly Coo, but that is most likely just a coincidence.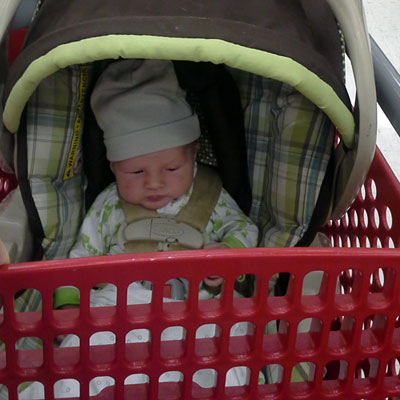 The next challenge was Target and Popeye escaped with barely any of his data being breached. He also scored some free credit card monitoring.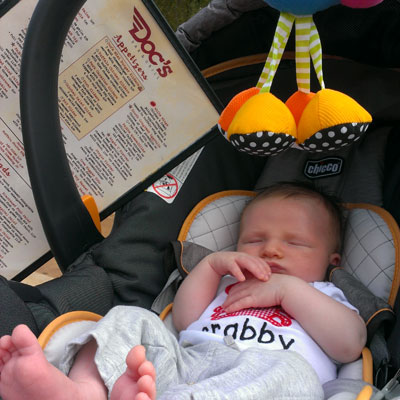 Popeye was now ready to graduate to happy hour, so he kicked up his toesies and slept while we scarfed down half price sliders and queso at Doc's Backyard. Don't let the closed eyes fool you though, he was totally scoping out the sweet play area for when he's older.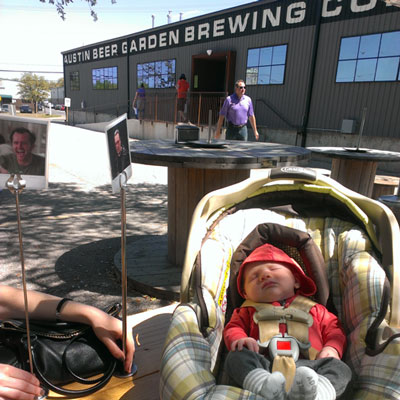 Back when the little man was still tucked in Mama's tummy, we used to meet up at The ABGB with our centering group to talk about our exciting, scary and uncertain futures. I'm pleased to say that all 7 of the couples now have healthy babies and we now require a much larger table.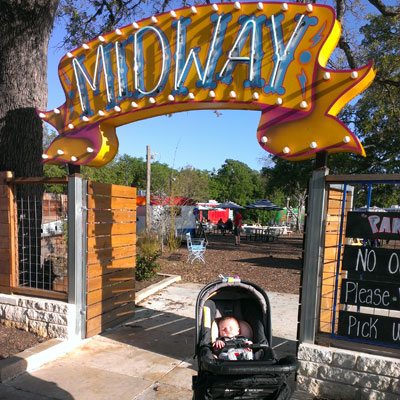 Food trailer parks are a big deal in Austin. They are pretty much an outdoor food court with a central dining area surrounded by an assortment of food trailers. Usually, one of the trailers is a bathroom, which I don't recommend ordering from, and the rest have foodstuffs of various color, size and taste. The Midway Food Park is no exception.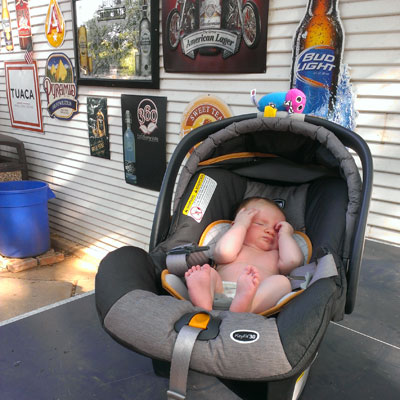 The next time we tried to meet up with our centering group at ABGB, it was packed, so we ended up down the road at Opa! (I am not exclaiming it, that is just part of the name). Popeye went au naturale in the alfresco patio because sweaty babies = ewww.
Since summer comes 2 fast and 2 furious in Austin (is it too soon for a Paul Walker joke?), we opted for some indoor dining for our next excursion. The Waterloo Ice House also offers an outdoor play area, and that seems like the sort of information that we need to jot down somewhere. Fun fact: Austin was initially called Waterloo.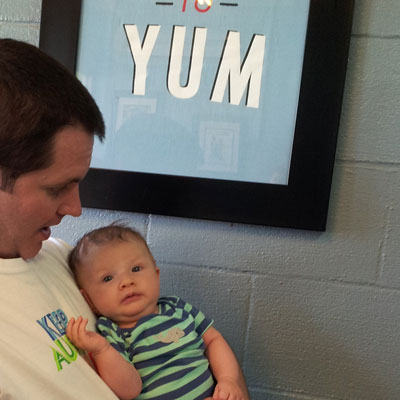 You will never be an Austinite until you've had tacos al pastor (it's in the bylaws, look it up), and Papalote makes them muy auténtico. Unfortunately for Popeye, he only got a glimpse of the flavor hours later via Mama's boob. I will now take this time to point out that he's wearing the same shirt in 3 of these photos and I'm wearing the same shirt in 2. His excuse is that he's a baby, my excuse is… HEY, LOOK – A BABY!
Another Austin rite of passage is the gospel brunch and Threadgill's is famous for theirs. Popeye cares not for such traditions.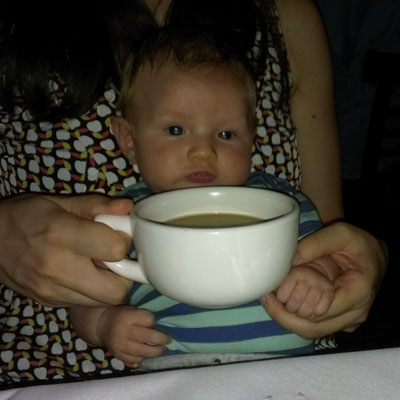 After all the preparation, Popeye was ready for the big time. We dressed him in his finest onesie, his most stylish sweatpants and his almost matching socks and then paid a visit to Austin Land and Cattle Company. After some fine dining by us and some fine napping by him, we reminisced over coffee and pondered the last 10 weeks.
Followed by another round of parental high fives.