A few weeks ago I complained about some companies that make baby items with labels and tags that are sometimes larger than the items they are attached to. I called out a few of them on Twitter, and Aden + Anais was actually cool enough to play along after my virtual pal Nate LeClaire retweeted my post (he's real, the friendship is virtual):
@natelaclaire @dwpoore the label is often an attachment items for babies-like a lovey. We find a lot of little ones become attached to them.

— aden + anais® (@adenandanais) March 25, 2014
I couldn't pass up the opportunity to answer back:
and a happy baby 🙂 RT @dwpoore @adenandanais @natelaclaire Labels are also good substitutes for pacifiers in a pinch pic.twitter.com/QkIBgCbszZ

— aden + anais® (@adenandanais) March 26, 2014
That was pretty cool of Aden + Anais and, except for the size of their label, I really do love their products. Their muslin swaddle blankets are lightweight yet strong, stretchy yet firm and the perfect size. They even work great as the outer shell of my Double Swaddle Burrito Supreme (patent-pending). If you are curious, these are the exact blankets that we use:
While I wait for Carter's to join in on Twitter, I will direct my venom to baby clothes makers and their ridiculously random sizing. Oh wait, it just so happens that Carter's makes basically all the baby clothes ever. It's not just Carter's though, it seems the entire industry has no understanding of babies and the rate in which they grow. Since photos tend to speak volumes over words, I will now share some exhibits to prove my point.
Obviously a mistake right? The items must have been marked incorrectly in the factory. Okay, fair enough. How about we check two other brands?
"But these are different brands!" You scream at your magical web device of choice (this site should look great on every device!), "of course different brands are going to be sized differently!"
Fair point, so how about we compare two items made by Carter's:
When it comes down to it, ridiculous baby clothing sizes isn't the worst thing there is. You basically just have to never read the labels and just sort the clothes by their actual size. That being said, there is one baby clothing crime that is so heinous and so unforgivable that it cannot go unmentioned.
I am referring to a certain brand (it rhymes with berber) who thinks that baby feet, no matter the age, have the same dimensions as fun size Snickers. Completely off topic but, shouldn't the largest Snickers in production be called the fun size?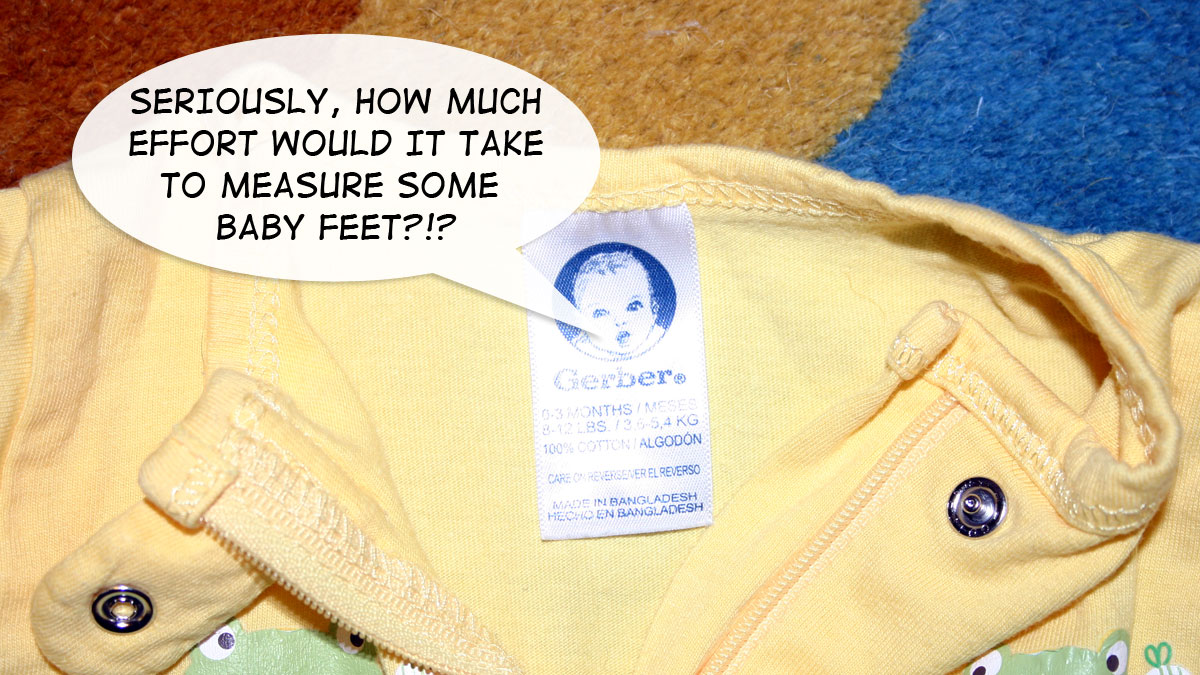 This isn't a one time thing either. We have a few Gerber items with footies and I have to applaud them on thing that the other brands can't match… they are consistent.